Versa Director

A Virtualization and Service Creation Platform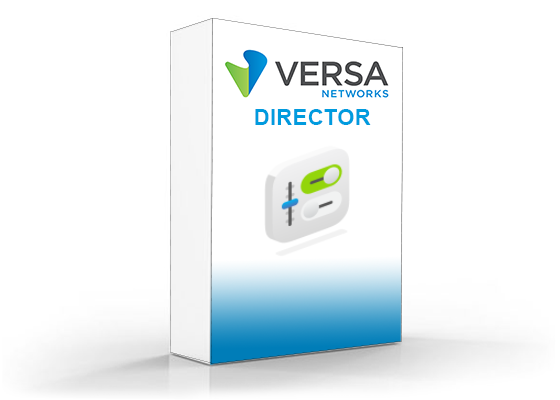 This product is no longer available.

Please Contact us for more information.
Overview:
Versa Director is Versa Networks' virtualization and service creation platform that simplifies the creation, automation and delivery of services using Versa WAN edge software, FlexVNF. Versa Director provides the essential management, monitoring and orchestration capabilities needed to deliver Versa's Secure Cloud IP architecture network and security software services. Services supported by Versa include routing and advanced connectivity to direct traffic across multilink WAN access and simplify control for SD-WAN with embedded advanced security.
Versa Director provides single-pane-of-glass management for connectivity and services. It scales to thousands of end customers or organizations through hierarchical multi-tenancy and role-based administrative capabilities. Combined with Versa FlexVNF WAN edge software, Versa Director provides complete VNF infrastructure lifecycle management for bare metal and virtual machine environments, from deployment and configuration to ongoing monitoring and change management of Versa and third party VNF-based services with automatic actions such as auto-healing and auto-scaling.
Versa Director also provides a rich set of interfaces for effective integration with third party products and services. Versa Director supports service definitions including Versa and third party service components, enabling flexible service chain creation and deployment. In addition, utilizing open and widely available protocol and API formats allows for tight integration with operations and business systems. The result is rapid delivery and simplified ongoing management of Versa-based services, from basic connectivity to advanced SD-WAN and branch security.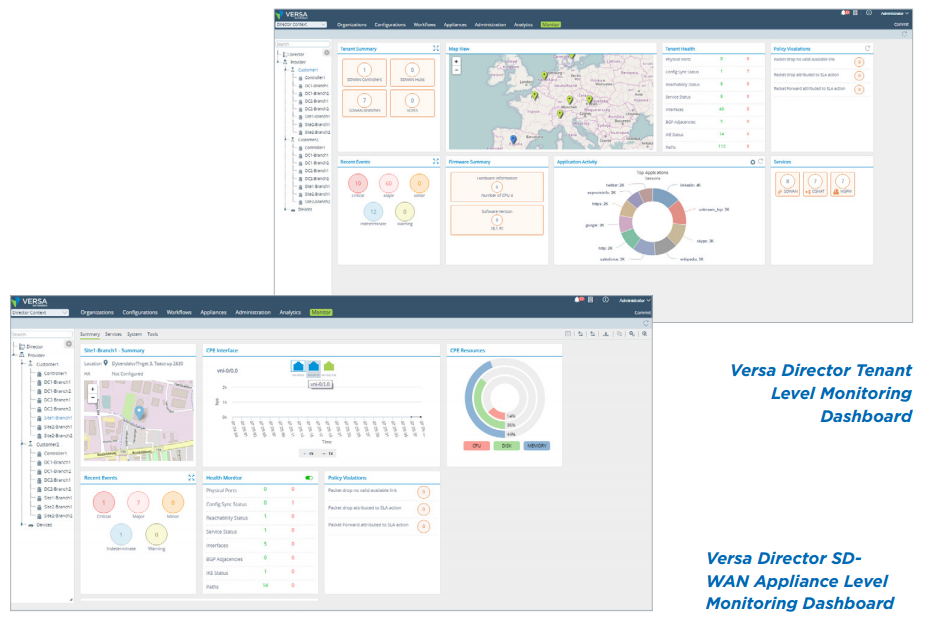 Features:
Policy
Centralized policy management – policy locking, versioning
CRUD operations on users, roles, capabilities
VNF placement support using resource pools
Operations
VNF life cycle management
uCPE cloudIinit support for VNF instantiation
Hierarchical Template-based provisioning
FlexVNF configuration management, backup, restore, archive, rollback
Hierarchical multi-tenancy support and tenant management
Service catalogs, subscription plans for tenants – specify flavors, policies
Service orchestration
Rest APIs for all operations
FlexVNF management using industry standard NetConf (RFC 6241)
Web-based graphical user interface (GUI)
Administration
Inventory management
Software management/upgrades
Client and secure API management for third party integration
User-management and AAA integration – Radius/LDAP/TACACS+
Role-based access control
High availability (Active/Standby only) and disaster recovery
Configuration audit logs
Licensing and usage reporting
SSO (Single-Sign-On) support via SAML
Licensing and Entitlement management
Monitoring
FlexVNF monitoring – System, Cluster, Interface, Alarms
Service monitoring – SNMP MIBs, counters, statistics
Auto-healing
AMQP based notifications
Service Chaining Support
Service chaining policy definition for FlexVNFs and third party VNFs
Deployment Options
Bare metal
Virtual machine
Public Cloud (AWS, Azure)
Cloud Management Sytems
VMware vCloudDirector, vCenter
OpenStack, VMware Integrated OpenStack
Bare metal services with local cloud abstraction
Amazon Web Services cloud API Integration
Microsoft Azure cloud API Integration
Third Party Overlay Integration
VMware NSX, Nokia Nuage, Open Contrail, OpenDaylight (ODL)
OSS/BSS and Orchestration Integration
Amdocs NCSO, NEC NetCracker, Ciena BluePlanet, Ubiqube, Cisco NSO, Ericsson ECM,
System Requirements:
Versa Director supports both bare metal & VM deployments
Recomended Sizing Requirements for Versa Director
Qty of Branches
Qty of Tenants
Deployment Option
OS
Processor
Servers
Cores
Storage Capacity
Storage (HDD) type
DRAM
Network ports per CPU
Upto 2500
500
Application on Ubuntu (Ubuntu Package)

Virtual Machine
Ubuntu 14.04
Intel Xeon 64 bit
2x 1 Socket Servers
16 cores per socket
512 GB
SSD Preferred
64 GB per socket
2
Upto 1000
200
16 cores per socket
512 GB
64 GB per socket
Upto 500*
100
8 cores per socket
256 GB
16 GB per socket
* Resource requirements above pertain to per Versa Director node