Versa Networks Work-From-Home

Organizations are thrown into a new paradigm where remote work, or oftentimes called "work-from-home", is the standard in office culture to maintain operational and business continuity.
With entire workforces connecting remotely through different devices, organizations have had to face many networking and security challenges. Now more than ever, a new network model is needed to deliver remote working that is scalable, flexible, agile, and secure.
Building resiliency and reliability in a time of doubt.
The dramatic increase in the number of remote workers and the lack of an adaptable and an agile network infrastructure to scale up and support day-to-day needs has created the demand for network resiliency and reliability. With users remotely trying to access cloud-hosted applications, on-premises applications, VoIP, Virtual desktop applications, together with SaaS application such as Salesforce and Office365, security and performance demands skyrocket.
This massive network traffic volume requires modern solutions that can "work-from-home" seamless and secure. Traditional network architecture implements manual device-by-device configurations and extremely slow remote site deployments that cannot meet modern requirements.
Scalability and security delivered through Versa Secure Access.
Versa gives a resilient and reliable "work-from-home" solution through Versa Secure Access, an industry's first in delivering Secure SD-WAN services and private connectivity for employees who are remote or working from home. These employees can now securely connect to applications in both private and public clouds as part of Versa Secure Access Service Edge (SASE) services. The new solution is based on the Versa Operating System (VOS™) which powers Secure SD-WAN networks on-premises and in the cloud for thousands of customers globally.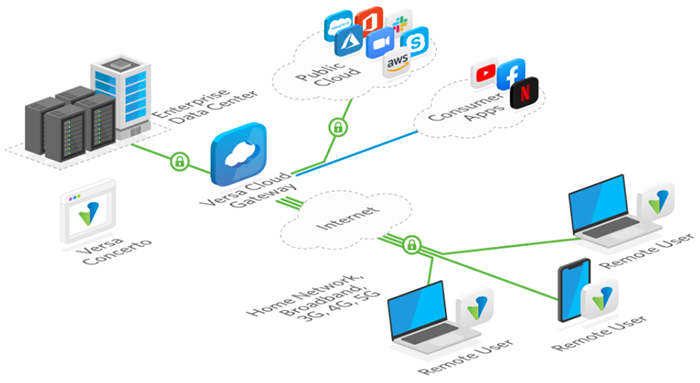 To protect the enterprise, which now has an expanded threat perimeter with the majority of connections being remote, Versa Secure Access offers the industry's widest range of security functions in a Secure SD-WAN solution. These include:
Stateful Firewall
DOS protection
Next-Generation Firewall
Intrusion Protection System (IPS)
URL filtering
All of the security capabilities are enforced on end users' client devices connecting privately to company resources hosted in private data centers, the public cloud, and SaaS locations. In addition to the capabilities above, Versa Secure Access Service provides integrated security and user authentication capabilities using an enterprise's own RADIUS, LDAP or Active Directory servers.
The solution also supports two-factor authentication for enhanced security. Versa Secure Access uses industry standard IKEv2/IPsec stack with strong ciphers and large key sizes for protecting traffic. In addition, it delivers private connectivity for VPC-hosted applications, multi-cloud environments, and SaaS applications.
Versa enables Zero Trust Architecture for securing WFH.
Versa Secure Access is a cloud managed solution delivering a Zero Trust Network Architecture service to efficiently connect distributed users with distributed applications without compromising on security or user experience. Zero Trust Network Architecture (ZTNA) is based on the fundamental philosophy of trusting no one.
In the context of secure access, the requirements translate to the following differentiated features of Versa Secure Access:
Application Segmentation to restrict access
Strong Multi-Factor Authentication (MFA)
Granular Application and Role-Based Control
Application and Network Visibility